On April 26th, 2023, Timecho was invited to participate in the building IoT 2023 summit in Germany and gave a special report on the application of the time-series data management system Apache IoTDB in the Internet of Things (IoT). The report was delivered by Dr. Julian Feinauer, CEO of pragmatic industries and technical director of Timecho Europe, and Pengcheng Zheng, Managing Director of Timecho Europe.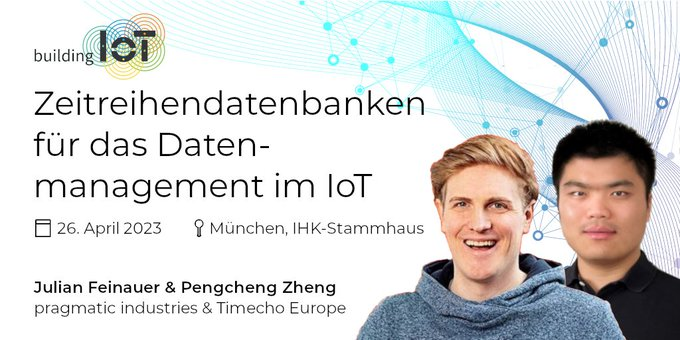 The building IoT summit is organized by heise, dpunkt, and iX publishers in Germany and has been held every spring since 2016. It is an annual developer event focusing on IoT and Industry 4.0. The target audience of this series of conferences includes software developers, software architects, data scientists, project managers, IT leaders, hardware developers, and testing personnel. The themes of this conference cover many areas in industrial IoT (IIoT), such as cloud computing, edge computing, software architecture, data science, machine learning, communication protocols, network security, etc. The conference invited IT experts from industry giants such as Microsoft, Siemens, Fraunhofer Association, and WAGO to give speeches and share on-site case studies. It also provided a platform for direct communication for attendees to showcase and discuss the latest solutions and trends.
At this summit, the Timecho team presented the topic "Zeitreihendatenbanken für das Datenmanagement im IoT" (translated into English as "Time series database for data management in the IoT") to nearly 300 participants. They introduced the advanced technologies of Apache IoTDB, such as the edge-cloud collaborative architecture, single-machine and cluster deployment methods, and IoT native data model, and shared the best practices for building a connected vehicle platform based on IoTDB to manage data from millions of connected cars. Time-series databases have been widely used in IoT, finance, energy, manufacturing, and other fields. They can help enterprises to process and analyze large amounts of time-series data quickly and effectively, discover patterns and values in the data, and provide decision support and business optimization for enterprises. Thanks to its special data structure, efficient data storage, and query technology, IoTDB has been mentioned in multiple expert reports, which attracted attention at this summit and triggered lively discussions and exchanges.
Timecho is committed to building the foundation of the IoT era with an open-source time-series database that is high throughput, high compression, high availability, and IoT-native. It aims to help enterprises explore greater data value with lower costs, and to promote intelligent IoT, smart manufacturing, and service upgrading transformation for enterprises.
About Timecho
Founded by the creators of Apache IoTDB, an international top level open source project, Timecho delivers IoT-native time-series solutions with high throughput, high compression, and high availability, assisting industrial users in addressing the challenges of data storage, retrieval, and utilization. We are dedicated to empowering companies to leverage the value of their data with higher reliability at lower cost.
Contact us
E-mail: contact@timecho.com
Homepage: www.timecho.com, www.timecho-global.com